FindAsianBeauty: Meet Your Asian Cutie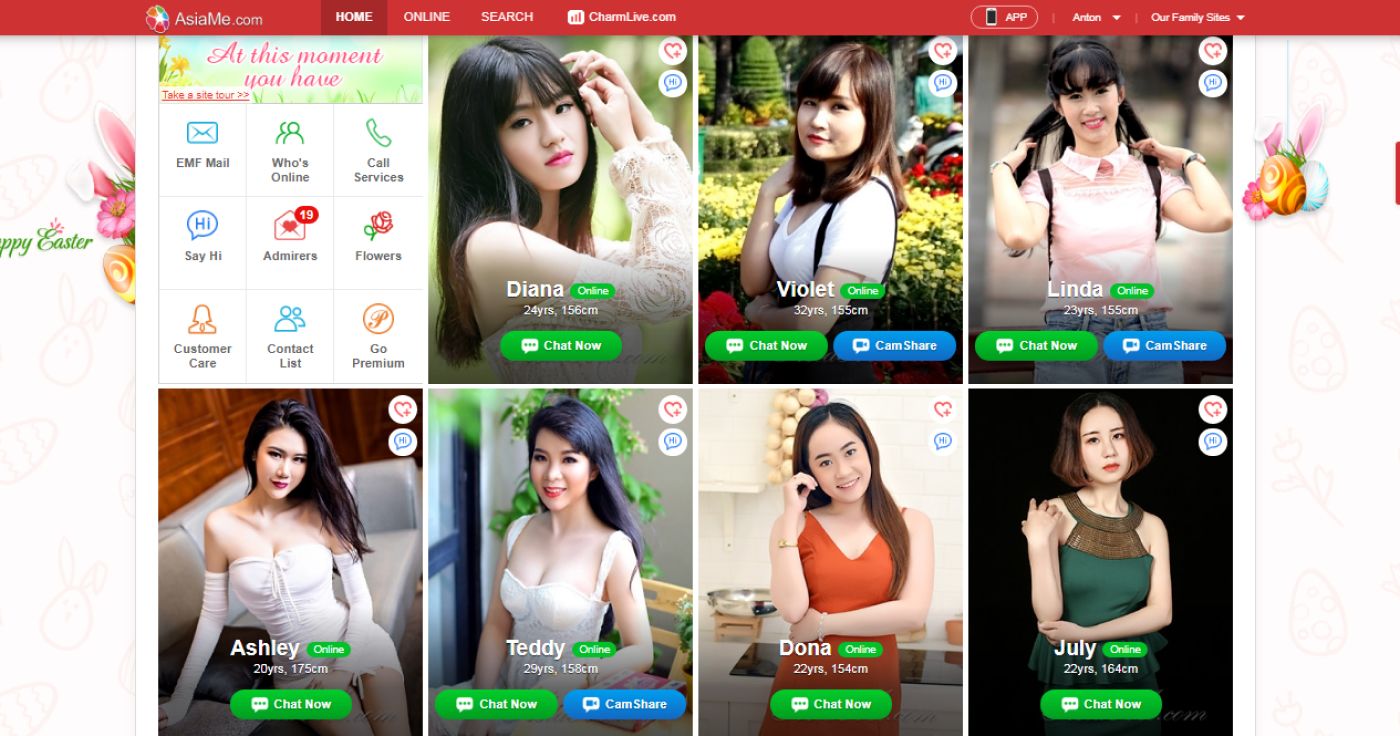 Recommended Age

30+ years

Registration

Free

Signup Time

10 min
FindAsianBeauty is a website where Western men and Asian women get connected despite the fact they live on different continents. The combination of an extensive database and a variety of functions makes this website worth your attention. It has connected hundreds of thousands of loving hearts since it's launch back in 1998.
This website belongs to the famous Qpid network. That means if you create an account there, you will have a profile on CharmDate, CharmLive, and more websites belonging to Qpid company. So you better consider making your profile look really attractive!
FindAsianBeauty is full of stunning ladies of all sizes, shapes, and ages, coming from China, Korea, Japan, Singapore, and more Asian countries. So if you are a fan of Asian beauty and culture, this is a perfect place where you can meet a soulmate from your favorite place.
This website provides you with chatting, emailing, video calls, translation, sending gifts, and more. With this set of possibilities, you will not even notice the fact that your girlfriend lives thousands of miles away from you. The intimacy of your conversations and the enhancement of a real date will be saved anytime.
Disclaimer: All the information in this review is relevant to the time it was written: April 2020. If you see any out-of-date info, please, let us know via email, and we will update the content.
Joining AsianBeauty is Where Your Story Starts
To explore the vast database of this website and start communicating with Asian cuties, you have to pass a simple registration procedure. It is simple, contains four steps, and you cannot skip it by signing in via your social media account. Below you can see exactly what will meet you when you enter this site.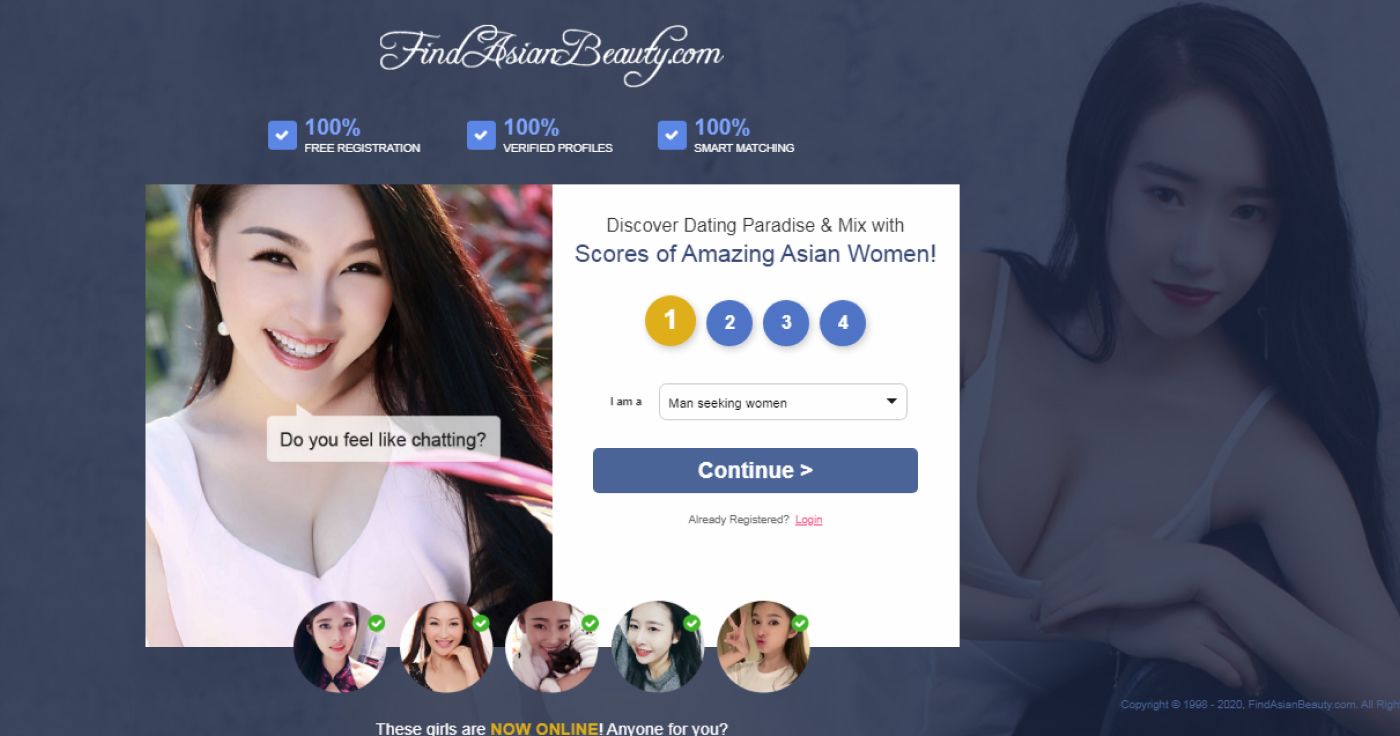 The registration is free and the website will ask you for the simple data, like your name, email, password and so on. The credit card data is not needed on this step. After you are done, you'll have to confirm an account by going to your inbox and pressing the confirmation button in the mail from Qpid Network.
After you are done, the website will ask you some simple questions about who you want to meet there. By passing this questionnaire you kill two birds with one stone: fill in your profile and adjust your matchmaking at the same time. But if you are not ready, feel free to skip this step and complete it later.
Setting Up A Profile And Exploring The Matchmaking
You'll need a complete and an attractive profile to swim in the attention of Asian hotties. So let's go through a brief guide on making your account outstanding.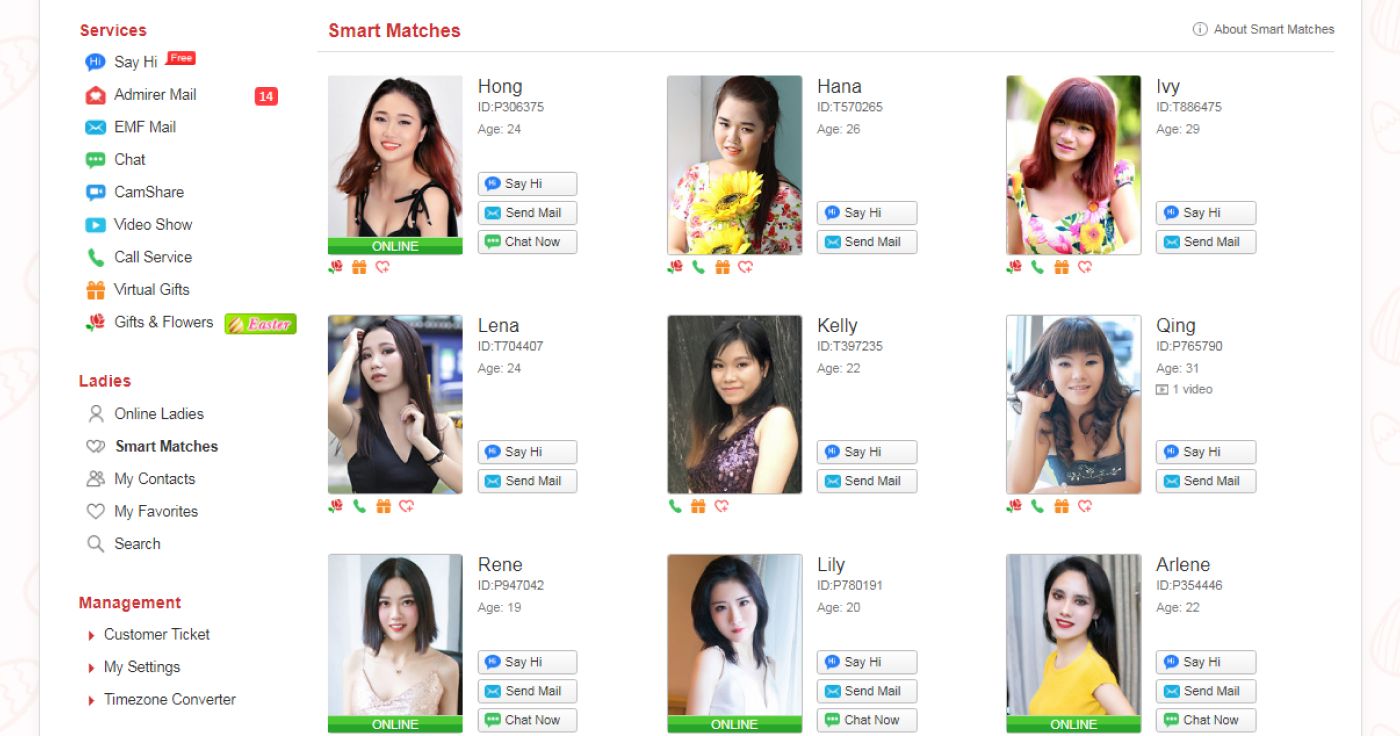 First of all, fill in the self-description field. You can be funny and charming there, women love it! Then choose a couple of nice photos of yourself and place them on the account. It will be best if the photos are from the professionally-made photoshoot.
Then consider filling your profile. Please avoid leaving blanks, since they bring suspense instead of sympathy. As an advanced task, you can complete 30 Match Q&A to help the algorithm in finding a perfect woman for you.
If you completed this step, you will see what answers are matching and what are not on women's profiles. So you'll need just a quick glance to see if this woman is what you need.
FindAsianBeauty uses a combined matching strategy, which means your matches are based on your browsing habits, Match Q&A answers, and your profile.
Start a Free Trial
Ready To Try Online Dating For Yourself? Get started by clicking Visit now button. Find Your Soulmate Today!
Visit site
Go Premium And Explore The Website's Possibilities
On FindAsianBeauty you can register and complete the profile for free. Also, you can search and visit the women's profiles without any limits for no cost. However, all the tools of communication come for the credits.
If you have credits on your account, there is a range of possibilities that opens up for you. You can see the hidden photos and videos, send emails, chat with women, video call them, send gifts, and much more. The full experience on FindAsianBeauty is only possible when you have a certain amount of credits on your account.
The credits come in the following bundles:
- 2 credits for $3.99
- 16 credits for $96
- 100 credits for $399
You can pay with various methods like credit cards, PayPal, AmEx, and much more. Also, you will receive 2 chat/cam vouchers after the registration. You can get bonus points that you can use for sending introduction messages for completing simple actions like installing the app, making calls, and more.
Search Tools Available
Search is one of the most important mechanisms of a dating website. With it, you can find a woman that you will like. FindAsianBeauty offers you two types of searching: the simple one and the extra one.
With the simple search, you can choose an age range of a woman you'd like, online status, availability for the CamShare, interests, location, Instant Chat, and Video Show availability. This is perfect for those who'd like to only chat with the women without having any serious intentions.
If you want to find a perfect match according to the certain criteria you have, it's better to go for an advanced search. You can choose women's education, occupation, religion, marital status, children, Zodiac, and height there. Yet it's better to widen the range of search if you haven't found your ideal while being too picky.
Explore The Profiles And Communicate With Females
FindAsianBeauty.com is full of high-quality profiles. Every woman strives to make her account the most attractive and interesting to make men fall in love with her from the first sight. A typical female profile on FindAsianBeauty looks like the one below.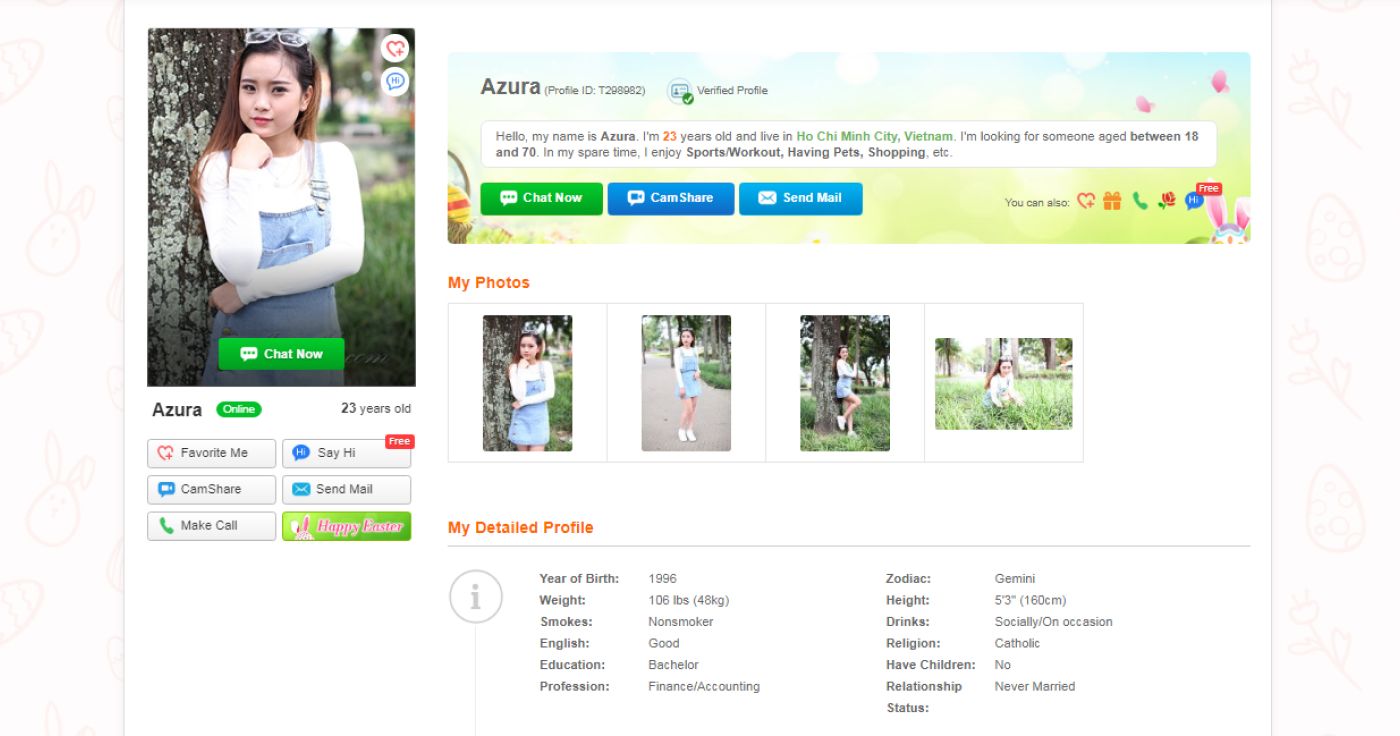 Every woman goes through obligatory ID verification. That means they need to provide their photos with documents to the admins before they can even start chatting with you.
Communication Perks And Possibilities
Qpid Network websites are famous for the wide range of features they provide. You can find literally everything you need to build a happy relationship with a woman in one place. Most of those tools come for the credits, as always. Yet, you will be amazed by their variety and quality. The following features are available:
- Say Hi Feature. It is a free way to attract attention to your profile. You can choose a template of a text and picture and send it up to 5 women per day.
- Instant Chat Feature. You can communicate with a woman in a real-time mode, send photos, videos and emoticons as well as choose a background with the Scene. It all comes for credits, including the Scene which will be visible for you and a woman for 2 days.
- EMF Mail Feature. It is a perfect way of communication for those who like reading and writing long messages and are used to wait for the reply. You can write a long message and attach photos, videos, and virtual gifts; sending and opening such a letter will cost you some credits.
- Call Service Feature. This is handy if you have created a certain intimacy in the relationships and you want to hear each other. Translation services are included in the price, they come for free if you need them.
- CamShare Feature. This is for even more intimacy when you'd like to see each other. You can share the camera from only one side, or both, it all also comes for credits.
- Gifts & Flowers Feature. You can go to the appropriate section and choose a physical gift for the woman of your choice. The prices come in credits and the delivery costs vary.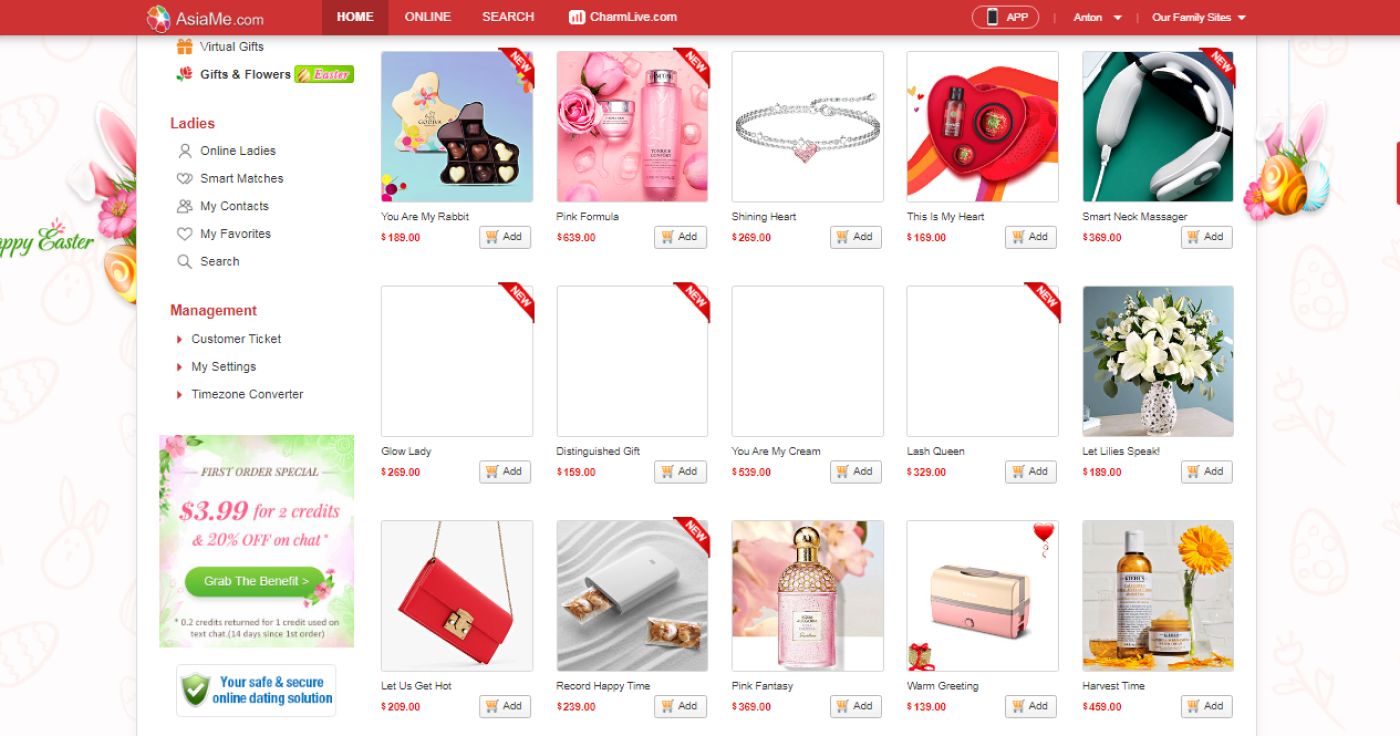 Your present will be delivered from 2 to 5 days since you bought it. Once you send a gift, you cannot cancel this action and get a refund.
There is also a Qpid Network mobile app that comes for iOS and Android. You can download it from your store or by scanning the QR-code from the website.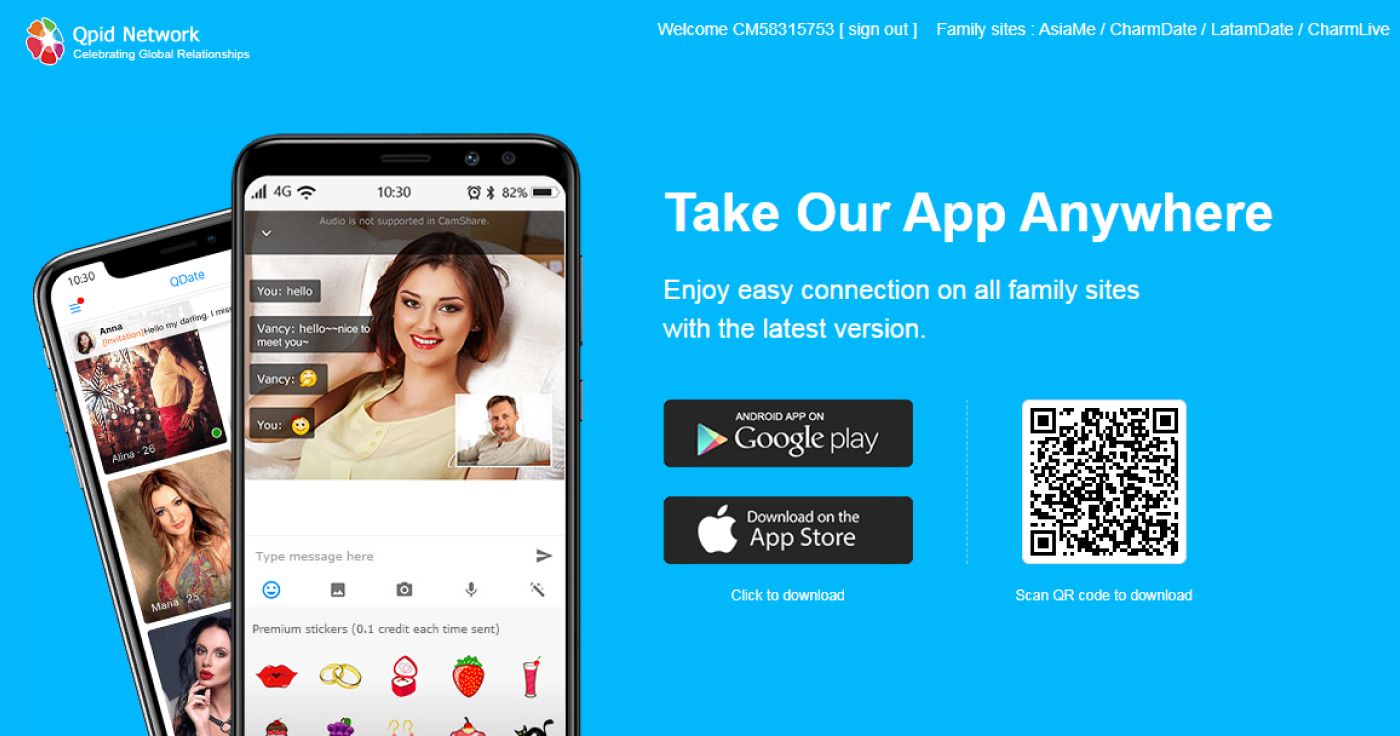 Pros:
- Nice-looking and active ladies
- Reasonable pricing
- Search feature and matchmaking
Cons:
- A bit outdated design
- Ladies' responses often take long
Final Words
If you like the Qpid Network websites, you will absolutely appreciate the FindAsianBeauty one. The balance of quality, reliability, and pricing is present there as always. What's more is that after registering on FindAsianBeauty, you will automatically have an account on all the Qpid Network websites.
With the convenient Qpid app for iOS and Android, you can chat with the women everywhere. We think this website is worth your time and money. But you better explore it on your own instead of believing other's conclusions! The registration is free, what are you waiting for?